Folding Doors
Abbey Aluminium has built a reputation over thirty years for providing elegant and stylish door and window solutions for Australian homes. With the advent of open plan living the drive to combine spaces and unite distinct areas of the home has become a cornerstone of modern architectural design. These Vantage® bi-fold doors are perfect if you want to create a seamless connection between your home's interior and the great outdoors.
Folding doors have become a key ingredient in designing outdoor areas that feel like a part of the home. Our Folding doors are manufactured in Milperra, using quality aluminium frames, and have become a popular choice for customers looking to develop an open plan feel to their homes.
What are Folding Doors?
Folding doors are a contemporary style of door, intended to fold in on itself and open the house up to a backyard, garden or patio. Also known as Bi Folding doors, these include large panes of glass which are designed to allow natural light into the home when closed. When folded back the doors unite the outdoor and indoor space, creating a seamless and elegant threshold to the natural world.
What are the benefits of Folding Doors?
There are significant advantages to choosing Abbey Aluminium Folding Doors for your next build or to replace standard sliding doors in the home.
They provide a modern contemporary look. Folding doors are both modern and stylish, and really accentuate the natural light allowed into the home, making spaces feel larger, airier and more pleasant for everyday living.
They instil your home with multiple functions. Alongside being a fantastic portal to allow light into the home, the doors can also be folded back. This is particularly advantageous in summer or during the warmer months when allowing the natural world into the home can really energize the room. It also makes hosting easy and movement between the inner and outer world seamless.
They take up less space than other designs. While sliding doors can only be opened to half way, Bi Folding can be opened along their entire length. This makes access easier but also means that they can be used in more confined spaces to open up the home and provide a sense of light, air and space.
They are extremely low maintenance. Our Folding Doors are made to a high quality standard and are manufactured to withstand weathering for years to come.
Panels glide effortlessly on bottom rollers – no need for an overhead lintel to support the door.
Unique, stylish, extra-wide top and bottom rails give the door the chunky appearance of traditional timber designs.
Choose from a huge range of hardware options.
Features a hinge between the door panels and a built-in handle, making it easy to close.
Compatible with industry-leading Centor™ retractable flyscreens for a beautiful, integrated look.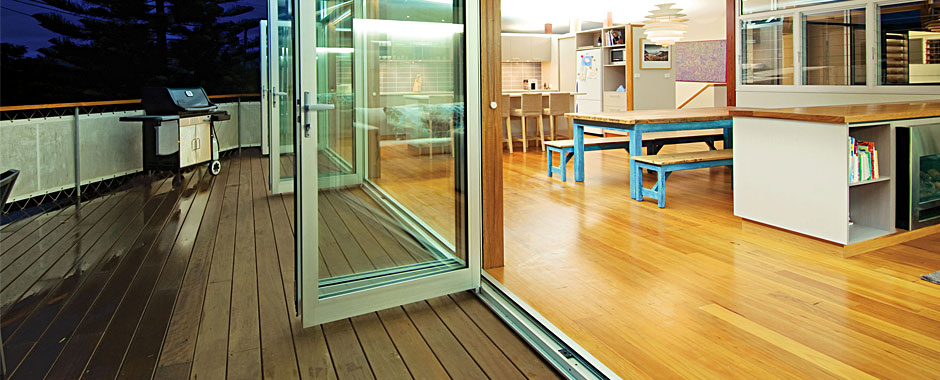 What makes our Folding Doors different?
Innovative Screening Solutions
The Centor™ S1E Retractable screen can be fitted seamlessly to Vantage® bi-fold doors, delivering the perfect solution for your home.
Range of Handles to choose from
Choose from ANDO™, MIRO™ or ICON™ handles for your bi-fold door, contemporary designs to suit your home style and décor.
The weight of Vantage® bi-fold door panels is supported at the sill, making our bi-folds a great choice for renovations or applications where overhead support isn't possible. We also offer top rolled Bi Folds.
100% Australian designed and manufactured
Designed, extruded and assembled locally Vantage windows and doors are 100% Australian. Manufactured by Abbey Aluminium.
For more information on our folding door options and how we can help you install your dream windows and doors, call us on 02 9199 2613 or visit us in our showroom today.